Purposeful, Safe and Supervised Interaction
With Equines - Customized Programs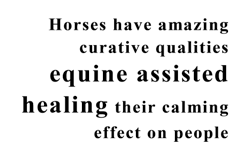 At Spirit of Eight horses play an integral role in our Equine Assisted Healing programs designed to help people with depression, cognitive therapy, speech therapy, anger management, high emotional needs, family relationships, stress, behaviour modification, professional development, team building and other types of problematic developmental issues. Our Equine Assisted Healing Programs are customized to each client's personal situation, giving each person the best possible care and attention.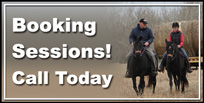 Equine Assisted Healing is a recognized effective way for children, youth and adults to bond with a powerful animal thereby gaining a sense of self and belonging as well as change and growth.

Helping People Develop New Behavior
Pathways to Overcome Their Challenges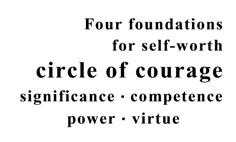 The Circle of Courage is a course based on brain science and traditional teachings to help workers manage behavioural difficulties. The focus is an individual's well-being and encompasses four shared core values: belonging, mastery, independence, and generosity, as signified in the Circle of Courage model of youth development.
We have certified trainers of Response Ability Pathways (RAP) methods from the Circle of Courage. The Circle of Courage program is grounded in research evidence on resilience, brain science, and positive psychology. Our training offers practical methods, positive behaviour support, while dealing with problems by focusing on strengths and solutions in a climate of respect.

Safe Supervised Structured Experiential Sessions
In Collaboration with Other Health Professionals