Shining Moon
Equine Curative Interactions for Clients with Disabilities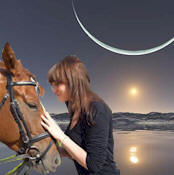 This is a controlled and specialized program for clients with disabilities that allows for clients to participate in a community outing that is safe and promotes peer interaction.
Our horses are all either Tennessee Walking Horses or Peruvian Pasos which are naturally gaited horses. Their gait is very smooth, not jarring. The temperament of our horses is also extremely condusive to individuals who have disabilities.
This program would be beneficial for many Community or Provincial Social Service Programs that support adults, children, or seniors with developmental disabilities - such as brain injuries, spinal chord injuries, visual or speech impairment, attention deficit disorder, cerebral palsy, down syndrome, multiple sclerosis, spina bifida, and stroke experience awareness and achievement that help build their confidence, patience, and self-esteem.

For many clients with physical disabilities the companionship of a horse offers them opportunities to experience a new kind of mobility, especially important if they have limited range of motion, have been confined to a wheel chair or any other disabilities that limit freedom of movement.
Connection with another living being is important if the client has had trouble or limited opportunities of making friends with kids their own age, mostly because a relationship with a horse is a non-judgmental back and forth collaborative experience.
In the case of non-verbal children they are encouraged to use words to tell the horse what to do. Once a child begins to use the appropriate words, including the horse's name, they gain confidence, which leads to further speech development.
If horseback riding is included in the program the experience provides the rider with a gentle rhythm similar to the human gait; this often helps improve muscle strength, flexibility and balance along with awareness and achievements that help build their confidence, patience, and self-esteem.

Other Equine Assisted Healing Programs
Professional Development and Team Building Programs